Online Store
Set up
For Small Business
We specialize in helping small business and startups get their online store set up quickly, effectively and for a lot less money than you may think.
eCommerce

Online retail sales are sky rocketing. It is easier and less expensive than ever for small businesses to establish their own online store front.

friendly

It's just who we are. It's your business and you will have questions related to eCommerce. We understand that, and we want to help.
knowledgeable

eCommerce can seem overwhelming. We are here to help explain the options so you can make the best choice for your business.

about us

Middle Fork Software is located in Boise, Idaho. We are here to help Small Business with their ecommerce and information technology needs.
---
See what an eCommerce platform can do for your business
Powerful Marketing, Promotion and Conversion Tools
Flexible Site Management
Robust Catolog Administration
Checkout, Payments and Shipping Features
And so much more!
learn more
Pro-tip: Search Engine Optimization (SEO)
Get found by Google, Bing and Yahoo
Start a Blog and post often. Blogging keeps the content on your site fresh and puts you in position to earn links from other other blogs and web sites. It's these links from other quality web sites and the additional content that will help drive up your ranking with the major search engines.
more pro-tips
What's an eCommerce Platform?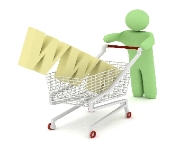 eCommerce Platform offer loads of features needed to operate your online store effectively
An eCommerce Platform is just a fancy way of saying 'Online Store' software. But, the really good thing about eCommerce platforms is the best ones come loaded with features to help you run, monitor, and grow your business and customer base. There are lots of eCommerce Platforms available but they are not created equal.
learn more
We're in Idaho!
Middle Fork Software
Boise, Idaho
info@middleforksoftware.com
---

on-line form